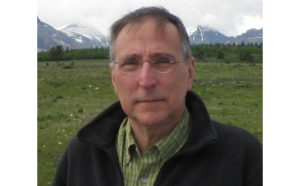 Author Historian Joe A. Mobley at New Bern Historical Society Lunch & Learn on May 10th
Richard Caswell came to North Carolina at age 16.  By age 18 he was Assistant Surveyor General for the state.  At age 23 he was Clerk of Court, then High Sherriff.  He went on to serve in the Colonial Assembly for 20 years, then the Continental Congress, and as North Carolina's 1st and 5th Governor. This extraordinary man had been a loyal British subject who fought against the Regulator rebellion, yet he emerged during the Revolution as a vital leader of the Patriot cause and embraced Americas revolutionary fervor. Learn more about Richard Caswell as author and historian Joe Mobley joins the New Bern Historical Society for Lunch & Learn on Wednesday, May 10 at 11:30am at The Chelsea.
Joe A. Mobley has worked with the Division of Archives and History of the North Carolina Department of Cultural Resources, serving as archivist, historical researcher and historical publications editor.  Until his retirement, he served as editor in chief of the North Carolina Historical review.  Currently, he teaches courses in North Carolina history at NC State University and Louisburg College.  He has published several works of history, and has won the 2006 North Caroliniana Book Award.  His most recent book is North Carolina Governor Richard Caswell, Founding Father and Revolutionary Hero, and will discuss that at Lunch & Learn.
Lunch & Learn starts at 11:30 a.m. at the Chelsea Restaurant, 335 Middle Street, New Bern. The cost is $16 for Historical Society members and $18 for non-members; lunch is included. Advance reservations must be made in by calling the New Bern Historical Society at 252-638-8558, or can be ordered at www.NewBernHistorical.org/tickets. Lunch choices are Chesapeake Chicken with Beurre Blanc Sauce, Rice Pilaf, Roasted Veggies or Beef Shoulder Tenderloin with Cabernet Demi Sauce, Garlic Mashed Potatoes, Roasted Veggies.
The mission of the New Bern Historical Society is to celebrate and promote New Bern and its heritage through events and education.  Offices are located in the historic Attmore Oliver House at 511 Broad Street in New Bern.  For more information, call 252-638-8558 or go NewBernHistorical.org or Facebook.com/NewBernHistoricalSociety..
Submitted by: Kathy Morrison, New Bern Historical Society