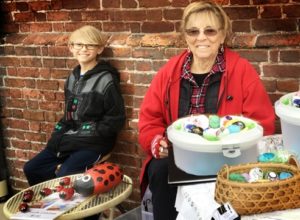 Visit Greater Good Gallery and Isaac Taylor Garden on Friday, April 14, 2017, from 5 – 8pm during ARTcrawl at 228 Craven Street, New Bern. The exhibit will feature artists' mockup pages in the upcoming book, "A Brief History of Artists in Eastern North Carolina."
Carol Jones will showcase her newest painting of a lion titled, "Don't Breath." Jones and Lisa Bisbee Lentz will be demonstrating oil painting techniques. See painted versions of Jon Derby's digital artwork.
There will be more artists and live music by Gypsy Sunrise in Isaac Taylor Garden. Be entertained by local musicians in the Gypsy Sunrise Band, playing All Your Classic, Country, Folk, Americana, and original Music. The band members include Joanne Friedman and native New Bernian, Bobby Hurrf who played with members of Lynyrd Skynyrd Band during an open mic session. He put together his Peace Soldier band, traveling the country as an opening act for bands such as Molly Hatchet, Blackfoot and others.
See more artists' works including original paintings by Jerry Scott and Arden Lindsey. Samrae Duke will sign copies of the illustrated book, "My Little Plastic Bag".  Nancy Zachewicz will showcases her zentangles and zentangled eggs with her grandson Reece who will be painting Lady Bugs rocks. Sandy Buck will reveal her newest photography prints. Linda Boccia will be explaining the history of her found d'objets sculpture. Andrea Clemmons Thompson will be on hand to promote the upcoming "New Bern Drum Circle" free public event to be held at Union Point on April 21 from 6 – 8pm.
Submitted by: Lisa Bisbee-Lentz, Artist Representative, Greater Good Gallery