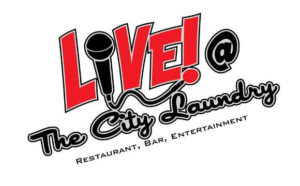 Wednesdays in May Pub Trivia with Austin Vaquilar at 7pm. Pub Trivia every Wednesday Night! Come and test your Trivia skills for an opportunity to win great prizes and have fun with friends! Join in the trivia tournament or find a nice cozy corner for a friendly game of Chess or Backgammon! Or bring the whole family to check out our selection of board games. It's all about bringing people together! The kitchen at Live will be cooking up some great compliments for an evening of fun.
Thursday, May 4th at 6:30pm: Supper club with saxophonist David Robinson. Saxophonist David Robinson plays smooth jazz for our Supper Club Thursdays. There is no cover charge
Friday, May 5th at 7:30pm: Interactive Murder Mystery "Miss Murples Last Case". A half dozen famous sleuths and spies have shown up at the Ambassador Hotel, each seeking a meeting with the notorious villain Beezle Crittenham… only to find him dead! Who killed him? Why? And what happened to the world's largest emerald, the Green Flem? In this comic murder mystery, the audience gets a chance to question the suspects and make their own guess at Whodunnit, Howdunnit and why, and the best guess of the night wins a prize! Tickets $30 (includes dinner). Advance Tickets are available online and at our box office. Table Reservation required, call 252-876-7007.
Saturday, May 6th at 8:00pm: Improv Comedy Night with Third Date Improv. Third Date is an improvisational theatre group directed by Dan Sipp. They perform regularly at Common Ground Theatre in Durham, as well as other Triangle venues. The cast consists of Dan Sipp, Nancy Pekar, Jenny Spencer and J Chachula. These four veteran actors create improvised shows based on your suggestions. Their scenes are a comic and sometimes bittersweet exploration of relationships with partners, family, friends, and co-workers. They reflect the joys, surprises and everyday frustrations of life in our weird, wonderful world. Tickets $7. Advance Tickets are available online and at our box office. Tickets will be available at the door on the date of the event.
Thursdays, May 11th and 25th at 6:30pm: Vintage Thursday with Alisa Mike. Popular local singer Alisa Mike serenades us with jazz standards from the Great American Songbook. Vintage nights with Alisa are a wonderful trip back through time. She is a true Artist and a voice you must hear!" No Cover.
Friday, May 12th at 7:30pm: Arlin Tart Trio. Local musicians Arlin Tart, Andrew Maune, and  Miguel Delima have come together to form a high energy funk, soul, rock trio covering music from Stevie Wonder to Journey. $7 Cover.
Saturday, May 13th at 8:00pm: Wepa! Latin Dance Night. Latin dance night returns! Salsa, Bachata, Meringue, and Cha-cha ! Dance the night away with us! We'll be offering Latin specials all night from our kitchen and bar. DJ starts at 9. Come at 8pm to brush up your Latin dance skills with local instructors from Rivertowne Ballroom. $5 Cover.
Thursday, May 18th at 6:00pm: Gabrielle Christie's Open Mic. Local musicians, spoken word artists, and singers take the mic onthe third Thursday of each month. Singer and guitarist, Gabrielle Christie brings grace and charm to the event. Come out and be a part of this very cool gathering of local Artists. No Cover Charge.
Friday, May 19th: Spring Open House Event. Spring is here! It's time to relax with friends and family, and enjoy a unique local shopping experience. Offering local arts and crafts vendors, fun and games for the kids and live music on our outdoor stage. It's fun for the whole family! The kitchen at Live will be cooking up a delicious Spring menu and we have a great selection of beer and wine for the adults!
Friday, May 19th at 8:00pm: Jazz Night with The Hot House Jazz Quartet. Jazz Trombone player Chris Schott and his Hot House Quartet will be playing jazz standards from The American Songbook. $8 Cover charge.
Sunday, May 21st at 11:00am – 2:00pm: Harbor Jazz Brunch. Join us for a yummy brunch with music by Harbor Jazz featuring Robert Dumon, Ann Sorocki and Margaret Rose. No cover charge.
Friday, May 26th at 8:00pm: The Music of James Taylor and Carly Simon. A musical tribute to 70s icons James Taylor and Carly Simon. The concert will include performances of favorites such as Taylor's Fire and Rain, and Carolina on my mind along with Simon's collection of works including You're So Vain, and Anticipation. The evening will include an All Star line up of local musicians and singers, including appearances by jazz favorites Andrea Owens and John Van Dyke. Tickets $15.
Saturday, May 27th at 8:00pm: Supper Club Cabaret with Dora Bullock and Patrick Bliss. An intimate Cabaret performance featuring two very beautiful voices. Dora and Patrick are well known within our local Theatre community. They will present an evening of show tunes and jazz standards. Tickets $12.00
For more information, visit The City Laundry at 901 Pollock St. or call 252-876-7007.