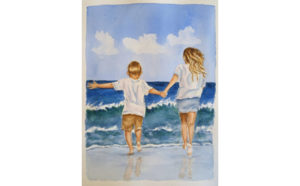 Local Professional and Student Art Showcased at Bank of the Arts
April 5th – 29th; Artwalk on April 7th from 5pm – 8pm
Craven Arts Council and Gallery is proud to present the work of the Twin Rivers Artist Association and the visual arts students at Craven Community College in the Main Gallery at Bank of the Arts for the month of April. Craven Arts Council will hold a reception during the Artwalk, April 7th, from 5pm to 8 pm.
The Twin Rivers Artists Association (TRAA) exists to promote and encourage the creation, education, and appreciation of fine art in the region. The over eighty strong membership meets monthly to learn and discuss techniques, provide feedback, make social connections, and distribute news on the arts in the area. Skill levels range from beginners to professional artists, in an environment that encourages cooperation and mentorship. Once a year Craven Arts Council hosts an exhibition of the group's membership, combined with students from the local Craven Community College, in order to encourage the creation and exhibition of local art. Works on display will include painting, photography, sculpture, pottery, and mixed media.
This year's juror for the exhibition will be Sue Byrne Russell, a professional artist, teacher, and touring artist in residence. She received her BFA from the University of Georgia and MA from Arizona State University.
For more information, visit the Bank of the Arts, 317 Middle St., call 252-638-2577 or check out our website.
Submitted by: Jonathan Burger, Marketing and Gallery Director, Craven Arts Council & Gallery, Inc.