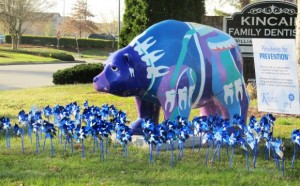 April is Prevent Child Abuse Month and the Community Coalition for Craven County Children (C5) is inviting you to join them. There will be an Opening Ceremony on April 4th in the churchyard at Christ Church in Downtown New Bern at 12:00 noon.  This will be a time to celebrate our families and children and to come together to show our community support of the agencies that work throughout the year to serve our families in need.  Speakers will include Donna Foster who was a foster parent for 17 years and a trainer for foster parents and other trainers for 32 years.  She is a dynamic speaker, author and consultant. County dignitaries and representatives from Marine Corps Air Station Cherry Point will be present and the preschool children from New Bern Cooperative Preschool will perform and plant a pinwheel garden! A light lunch will be available.
The pinwheel is the symbol used to represent the bright shining future of every child.  C5 hopes that your business, organization and/or neighborhood as well as individual families will come to show their support.  Wouldn't it be wonderful if there were people overflowing onto the sidewalk of Middle Street indicating the importance of our children and youth and our commitment to them!
Vision:  That every child in Craven County has a safe, healthy and caring environment where each one can reach his or her full potential through strong families and a supportive community.
Mission:  We provide Craven County families with educational information on child development, safety and parenting, and promote the improvement of outcomes for families and children in our community.
For more information call Terry Brubaker at 252-514-9550 or send her an email.
Submitted by: Terry Brubaker, Community Coalition for Craven County Children (C5)