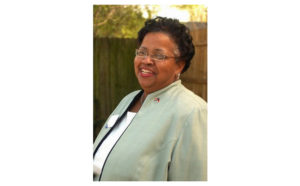 Dr. Ada Fisher Second Annual Speaker in the Leadership Series Hosted by the Eastern Carolina Economics Club
The Eastern Carolina Economics Club (ECEC), is proud to welcome Dr. Ada Fisher to New Bern as the second annual speaker in the organization's Women's Leadership Speaker Series. Dr. Fisher will be the featured dinner speaker at the Flame Catering and Banquet Center on March 30, 2017 at 6:30 pm.
Trent Woods Mayor Chuck Tyson says that she is "the most dynamic speaker he has ever heard"!
Dr. Ada Fisher, a physician, expert on public health, educator, author, poet, and columnist, is truly North Carolina's renaissance woman and has received national recognition as well. She was recently named #25 in the Newsmax list of the fifty most influential African American Republicans in the U.S.A.
"This will be an inspiring and provocative event," says Christine Meyers Moore, Founder, and Chair of ECEC. "One of the goals of ECEC is to give influential women a platform to educate and share their insights on important issues. Nothing could epitomize this goal more than hosting the first African American female to be elected as the NC GOP National Committee woman."Dr. Fisher has been re-elected twice for four-year terms.
Dr. Fisher was born in Durham. Her father, a pastor, was the son of a former slave and his Seminole Indian wife. After graduating from high school with honors, she graduated from UNC at Greensboro with a degree in biology. She earned her medical degree at the U. of Wisconsin and her master's in Public health from Johns Hopkins.
Her career has been diverse and challenging. After a medical residency at the U. of Rochester she ran a rural North Carolina health clinic and a 16-county substance abuse program. She has worked for two Fortune 500 companies, including medical director of oil-giant Amoco in Chicago. She was chief of Occupational Health at the VA medical Center in Salisbury.
Dr. Fisher is fearlessly outspoken on issues she deems important. In her articles, she has pointed out that the GOP, unlike the Democratic party, has a long history of supporting black candidates for office and fighting segregation.
Her support includes a flat tax for small businesses, gun rights, tort reform for medical malpractice and a free enterprise system of health care.
At the same time, she opposes open borders for reasons of national security and believes that there should be national standards for Driver's Licenses and Voter I.D. Cards.
Tickets for the dinner can be purchased at ECEC-DrAdaFisher.EventBrite.com: $40 non-members, $35 ECEC members.
For media requests, including interview inquires for Dr. Fisher, please contact Christine Moore at 252-269-4517.
About Eastern Carolina Economic Club: ECEC is designed to empower female business leaders in Eastern NC by creating a forum for sharing best practices in business and offering educational opportunities vital to advancing women's success in the workplace. In addition to the Women's Leadership Speaker Series, ECEC will offer members-only events such as roundtable breakfasts and luncheons. The ECEC meetings are both social and serious by providing ample opportunity to network before the formal program.
Submitted by: Christine Moore, Eastern Carolina Economic Club