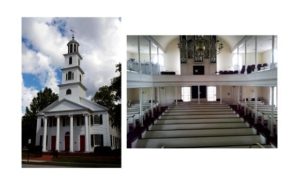 The lecture by Mr. Charles Francis, AIA, on the architecture of First Presbyterian and other historic buildings in New Bern which was originally set for February 12, 2017 has been rescheduled for March 19th at 2:00 pm in the Sanctuary at 400 New Street.
Mr. Francis' program is titled "A New Architecture in the Wilderness," and will provide information on the design of the oldest continuously operated church structure in New Bern.
The lecture is part of the continuing Bicentennial Celebration of First Presbyterian Church, New Bern in partnership with the Rothermel Foundation. The public is invited to attend and a reception will follow in the Session House adjacent to the church.
For more information, call 252-637-3270.
Submitted by: Micajah Newman