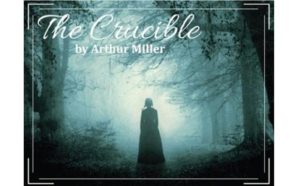 ​"The Crucible" by Arthur Miller will be directed by Siobhan Brewer, with shows Feb. 10, 11, 17 and 18 at 8pm and Feb 12 and 19 at 3pm.
The overview: "The time: 1692. The place: Salem, Massachusetts. The problem: Witches. What happened to the women of Salem? Or maybe the real question is what happened to the people of Salem? What events could possibly lead an entire town to turn on their own? RiverTowne Players is proud to bring Arthur Miller's powerful tale of the Salem witch trials to our stage. 'The Crucible' is one production not to be missed or forgotten.
"The story focuses upon a young farmer, his wife and a young servant-girl who maliciously causes the wife's arrest for witchcraft. The farmer brings the girl to court to admit the lie – and it is here that the monstrous course of bigotry and deceit is terrifyingly depicted. The farmer, instead of saving his wife, finds himself also accused of witchcraft and ultimately condemned with a host of others."
Visit RiverTownePlayers.org for more information.
Submitted by: Susie Tilley, RiverTowne Players