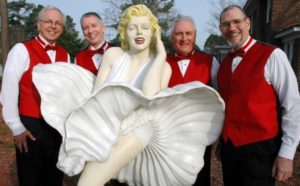 Desperate to find the perfect way to impress your Sweetheart on Valentines Day?  The Southern Gentlemen Barbershop Chorus will go anywhere to provide the perfect solution.  Simply order a Singing Valentine by calling 252-288-9132.
AAT handsomely costumed Barbershop Quartet will deliver two sentimental love songs, a long stemmed red rose, a Valentine Card signed with your message of endearment, a photograph to record the emotional moment and a complimentary ticket to the Chorus' annual show in April.
This will take place on Tuesday, February 14th for local folks and on Monday, February 13th for wives and sweethearts of our military (free of charge).  Deliveries can be made to residences, businesses, schools, hospitals, nursing homes, gyms, restaurants, etc. between the hours of 8 a.m. and 6 p.m. in the New Bern and Havelock areas.
The cost of $40.00 can be paid by credit card or check in advance.  Monies have been used in part to support the charitable giving of the Chorus to Merci Clinic, The Coastal Women's Shelter and The Navy-Marine Corps Relief Society.
To order a Singing Valentine, call 252-288-9132.  Active duty military can order a free Singing Valentine by emailing David Parker.
The Chorus is celebrating 25 years of bringing the joy of four part harmony to the New Bern area.  Any male interested in singing is invited to observe a rehearsal at the Cornerstone Church, 2304 Hwy 70 East, New Bern (James City).  No prior formal singing experience required.
Submitted by: Bill Rust, The Southern Gentlemen Barbershop Chorus