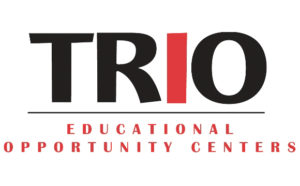 The new TRIO Educational Opportunity Center (EOC) at Craven Community College (CCC) is holding open house on Saturday, February 25 from 11 a.m. – 1 p.m. at the Stanley White Recreational Center at 901 Chapman St. in New Bern. EOC staff will be available to provide services information, answer questions, and assist qualified participants to fill out the EOC application.
The new EOC is funded by a $1.18 million grant award to CCC in August 2016 from the U.S. Department of Education (DOE). CCC is the administrator of the grant and EOC staff are CCC employees. Not exclusive to CCC, the EOC will assist participants in pursuing high school equivalency, college degree, or trade/vocational certification, at an institution of their choosing. The EOC at will provide a wide range of services such as career counseling, financial aid assistance, academic advising and tutoring. The services are provided at no cost to participants enrolled in the EOC program.
According to the DOE, the goal of the EOC program is to increase the number of adults who enroll in postsecondary education institutions. In a DOE statement, "The grants will provide readily accessible college guidance to adults who may not otherwise quickly decipher the steps needed for college admissions and continued success through graduation."
For more information about the EOC program visit: CravenCC.edu/EOC or call 252-638-1236.
Founded in 1965, Craven Community College (CCC) is part of the North Carolina Community College System. With campuses in New Bern and Havelock-Cherry Point, Craven serves about 3,200 curriculum students and more than 10,000 continuing education students each year. The college offers a wide range of associate degree and certificate programs, as well as college transfer courses, career and occupational offerings, partnerships with four-year universities, specialized workforce training options, developmental studies and basic skills classes. The Lifetime Learning Center and Adult Enrichment Program offer lifelong learning opportunities. Craven Early College High School programs are available on both campuses. CCC is also home to Public Radio East, one of the few community colleges nationally with this distinction. For more information about the college, visit CravenCC.edu.
Deborah Kania, Director of Marketing, Communications & Development Liaison, Craven Community College