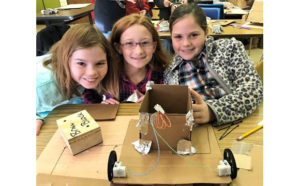 Loulie Henderson Sikes, AIG Teacher at BrinsonMemorial Elementary, won a 2016-17 Wey Mini Grant for $250 titled, "Robot Sumo – Wrestling with STEM." Ms. Sikes shared photos from the Wrestling with STEM event.
Ms. Sikes reports it was a huge success! She says, "Thanks to our Weyerhaeuser Mini Grant award, students were able to design, build, and then compete with one another in a Robot Sumo wrestling contest. I was so pleased with the degree of student engagement and enthusiasm throughout the activity. My students were afforded an opportunity I could not have provided myself without the support of these grant funds. I would like to thank all the PIE board members who dedicate their time and support to help make these educational events possible, and Weyerhaeuser for their continued support of our CravenCounty Schools' math and science programs through this grant."
If you would like to learn how your organization can make a difference through Craven County Schools' local education foundation, PIE, contact Darlene Brown, Executive Director, at 252-514-6321 or visit the PIE website at CravenPartners.com.
Submitted by: Darlene Brown, Craven County Partners in Education