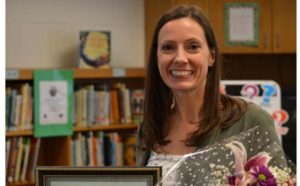 On January 11, 2017 the Craven County Board of Education and Oaks Road Elementary (ORE) spotlighted a teacher who has a unique role as both Title 1 K-2 Curriculum Support and as an Interventionist, allowing her to work with both staff and students.
In her role as K-2 Curriculum Support, Ms. McCoy is quick to share her time, resources and knowledge with the staff of ORE on a consistent basis. She also helps to ensure that all staff members are up to date with local and state standards as well as best practices for teaching. She continues to grow herself as an educator by remaining current with the latest instructional strategies by seeking professional development opportunities, engaging in self-directed learning, and participating in professional learning communities. She shares the best practices that she learns with others and helps to facilitate a school-wide environment in which everyone is invited and welcome to share.
When you pass by Ms. McCoy's classroom during her Prime Time intervention groups, her students are engaged in whatever the task may be. She works responsively with her students and tailors her instruction to meet their learning needs. She constantly searches for ways to reach the needs of all of our learners.
She works closely with district level instructional staff members in order to plan and deliver professional development opportunities for Craven County teachers. She does not work for awards or accolades, but simply to impact the educator of students. Congratulations Ms. McCoy!
Submitted by: Jennifer Wagner, Director of Public Relations, Craven County Schools