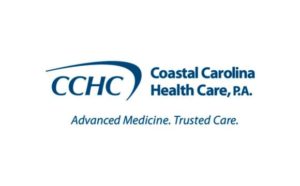 Coastal Carolina Health Care, PA ("CCHC") and Pamlico Medical Center are pleased to announce that Drs. Dunn, Willi, Lamsal, and Carperos along with Charlene Morris, PA-C have agreed to join CCHC effective January 1, 2017. These providers and their practice have a long history of serving the residents of Pamlico and surrounding counties and CCHC looks forward to continuing this tradition.
This decision comes after the two groups have worked together closely and shared patients for many decades.  The affiliation will allow the patients of Pamlico and Oriental Medical Centers to benefit from the systems and policies developed and utilized by CCHC to promote quality and cost containment. CCHC has been recognized as a national leader in providing quality and cost effective care to their patients covered by Medicare by achieving and aggregate quality score of 97.7% and reducing the need for hospitalizations by 25%.
"Our decision to join CCHC was based on how to best continue to provide primary care services meeting new government and insurance requirements quality reporting and use of electronic health records while holding down costs," said Ernest C. Dunn, Jr., M.D. who has worked at Pamlico Medical Center since 1981.
"Although we are joining a larger group, we will maintain the culture, autonomy, and decision-making that helped us be successful," said Suman Lamsal, M.D.
"This affiliation is an excellent way for this group to provide the communities in Pamlico County with the additional benefits that a larger nationally recognized group like CCHC can bring," said Kenneth W. Wilkins, Jr., president, CCHC.
About Coastal Carolina Health Care
CCHC is a nationally recognized physician-owned and led multispecialty medical practice with more than 60 physicians and advance practice clinicians operating out of 13 locations in Craven and Carteret Counties.  Their operations include an Ambulatory Surgical Center for Gastrointestinal Endoscopy, Sleep Lab, Central Clinical Laboratory, Urgent Care, Imaging Center, and Accountable Care Organization. The group's specialties include Internal Medicine, Family Practice, Hematology, Oncology, Gastroenterology, Cardiology, Pulmonary Diseases, Critical Care, Endocrinology, Rheumatology, and Neurology.  For more information, visit CCHCHealthcare.com.
About Pamlico Medical Center
Pamlico Medical Center is the largest medical group in Pamlico County with its main center in Bayboro and a satellite in Oriental.  The group was founded in 1961 by Richard W. Hudson, M.D. and provides comprehensive primary care to the residents of Pamlico and surrounding counties.
Submitted by: Shannon LuQuire, Trade Ideas Inc.