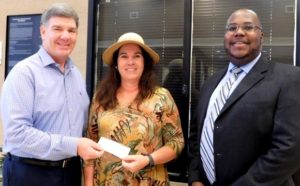 Each quarter, Julie Mincey with High Country Travel and Tours selects a local nonprofit to support by donating $50 for every confirmed travel reservation.
For the fourth quarter of 2016, Ms. Mincey chose Partners In Education in honor of her daughter who is a school teacher. The $800 donation is designated for grants administered and awarded through PIE that encourage innovated and creative projects in Craven County Schools' classrooms.
If you would like to learn how your organization can make a difference through Craven County Schools' local education foundation, PIE, contact Darlene Brown, Executive Director, at 252-514-6321 or visit PIE's website at CravenPartners.com.