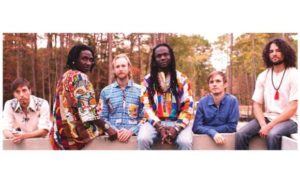 Friday, February 24
7:30 p.m. in the Orringer Auditorium
West African dance music of Senegal meets the North Carolina Piedmont
Combining passionate originality with fierce authenticity, Diali Cissokho & Kaira Ba take West African dance music into new territory—literally, the North Carolina Piedmont. That's where the leader of Kaira Ba, Diali Cissokho, a griot born to a family of professional musicians in Senegal, makes his transplanted home.
The band's repertoire is pure Manding, the centuries-old musical culture of Cissokho's ancestors. It's reformulated with modernizing impulses in a rock band format: agile bass lines interweave with the melodic twins of kora and electric guitar, supported by an explosive rhythm section of djembe and trapset drums. Kora master Cissokho is also the group's vocal frontman. His electrifying voice propels songs old and new about timeless themes of mythology, migration and universal love. Irrepressible dance grooves, serpentine guitar work and Cissokho's soulful vocals and kora playing illuminate stories of ancient West Africa in a globalizing world. In fact, "universal love" is a rough translation of "Kaira Ba," a promise the band communicates live. The result of this cross-continental collaboration is a fresh and exhilarating musical experience.
The kora itself, a jumbo spike-lute with skin-and-gourd resonator, is handed down within families in West Africa. Four outstanding North Carolina musicians – Jonathan Henderson, Austin McCall, Will Ridenour and John Westmoreland, each bringing their own musical influences to bear, round out the band.
Tickets $24 adults / $12 Students. Purchase tickets at Foundation.CravenCC.edu/Event-Registrations
Listen to Kaira Ba here: KairaBaMusic.com/music/ or watch the video here.
Submitted by: Jennifer Baer, Director of The Lifetime Learning Center and Community Outreach, Craven Community College