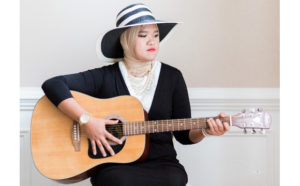 Greater Good Gallery will bring in the New Year with live music, a book launch and artistic demonstrations during ARTcrawl through Greater Good Gallery on Fri., Jan. 13th from 5-8pm.
Enjoy a live performance by local musician, Magfirah Dahlan. Growing up in Jakarta, Indonesia, Magfirah Dahlan has traveled and lived in sixteen countries on four continents. She moved to New Bern, North Carolina in 2013 to be a Philosophy professor at Craven Community College after completing her PhD at Virginia Tech. Having successfully written and published academic work, she began her singer-songwriting career in 2016 by writing forty songs in the span of nine months. As an emerging artist in the pop folk genre, she has been described as a 'lyrical genius' who combines philosophical insights and poetic beauty, with a voice that is unassuming yet haunting. Magfirah has performed in New Bern, Goldsboro, and Washington, DC.
Ben Alden Watford will be signing books to launch his newest title, "James Stanley Jones vs The Klan." The book begins during the late twenties and thirties. The story deals with two teenagers in a small village in Western North Carolina during the Jim Crow era. It is during the period when social contact between races is nonexistent, especially in rural America. Two individuals of different races find themselves drawn to each other. When one of them is murdered, the other is suspected. The mystery of the death and the resulting trial, fueled by hatred of the Klan, reaches the climax.
Carol Jones and Lisa Bisbee Lentz will be demonstrating oil painting techniques.
Call to artists: if you want to setup during ARTcrawls at Greater Good Gallery, please send an email or call 252-649-1712.
Submitted by: Lisa Bisbee-Lentz, Artist Representive and owner, Greater Good Gallery