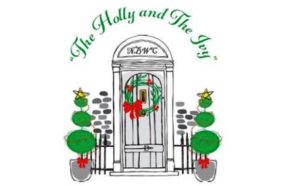 The New Bern Woman's Club would like to invite you to our 18th annual "The Holly and The Ivy" Holiday Homes Tour to be held in the historic district on Saturday, December 10th from 10:30 am to 3:30 pm.  This year we are featuring six beautifully restored historic homes and a lovely new riverfront townhouse.  Each will be wonderfully decorated for the holiday season and guaranteed to put you in the holiday spirit.  And be sure to sample homemade cookies and warm apple cider at this year's Sugar Plum Treats House at the Charles Slover House, 201 Johnson St., New Bern's grandest Greek Revival-style residences and ranks among the finest houses of the period in the state.
For those of you unfamiliar with the club, the New Bern Woman's Club is a service organization that has been around since 1905.  Over the last 111 years, we have donated millions of dollars to local charities, civic projects and annual scholarships.  We have also spent countless hours in various community service activities.  Just a few of our many accomplishments over the years were the creation of Union Point Park, the building of the George Street Senior Citizen Center and the landscaping and beautification of Lawson Creek Park.   We also provided the seed money for the current gazebo at Union Point Park, which stands on the site of our former clubhouse.
This is the major fundraiser for the club and has become a holiday tradition for local residents and guests from around North Carolina.  All proceeds from the tour go directly back into the community.  Tickets to the tour can be purchased at Bank of the Arts or at either of the local Harris Teeter Supermarkets.  Please encourage your friends and neighbors to support this wonderful event. Additional information and photos of homes on the tour can be found on our webpage:  NewBernWomansClub.com
Thank you for your support of this community event and we look forward to seeing you on the 10th.
Submitted by: Katherine Fannin, New Bern Woman's Club