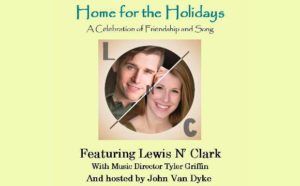 December 10th at 7:30pm
"Home for the Holidays" with Lewis N Clark
Von Lewis and Abbey Clark are back in New Bern! These are two of my favorite people and of course the talent here is amazing. I'll be joining Von and Abbey with Music Director Tyler Griffin for an evening of heartwarming music and fun. Special appearances from Singers Bethany Kenyon and Jenn Wiggs.
December 17th at 7pm
As Part of the Holiday Open House event I will be hosting a Jazz Jam session with some of my favorite musicians. The event includes local Crafters and Artists including Andrea Owens from Red Shoe gallery and Ross with New Bern Candle and Soap. There will be beer and wine available as well as some great food. There is no cover charge so come and enjoy some really cool music.
For more information, visit The City Laundry at 901 Pollock St., call 252-876-7007 or check out their website.
Submitted by: John Van Dyke