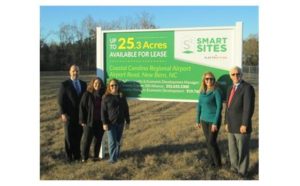 Coastal Carolina Regional Airport (EWN) representatives met today with Brenda Daniels, ElectriCities and Cindy Blot, City of New Bern to reveal signage for their new commercial development site.
The 25.3 acre site is located on the Airport near the intersection of Old Airport Road and Airport Road in New Bern.  It is less than one half mile from NC Highway 70 East.  Municipal water, sewer, and electricity are provided by the City of New Bern and those services are available along Old Airport Road adjacent to the site.  Additional amenities include a fiber optic cable running along the road and a Federal Express shipping terminal less than one half mile away.
The Smart Sites program was created by ElectricCities in 2014 to assist member communities in preparing shovel-ready sites for economic development.  "We are excited to have EWN selected to be part of the Smart Sites program." said Andrew Shorter, Airport Director.  "This investment will help EWN continue to increase the financial viability of the Airport while fostering new business in the area, and we thank Brenda Daniels and the entire ElectriCities team for their tremendous support."
The parcel is a high quality development site conveniently located in the heart of Craven County along the busy Highway 70 Corridor.  It has fantastic access and meets all the requirements for commercial development and light industrial facilities.  For additional information contact:  Cindy Blot, Community & Economic Development Manager, 252-639-7580, Timothy Downs, Craven 100 Alliance, 252-633-5300 or Brenda Daniels, Manager, Economic Development, 919-760-6363.
Submitted by: Leigh Ann Cook, Business Manager, Coastal Carolina Regional Airport