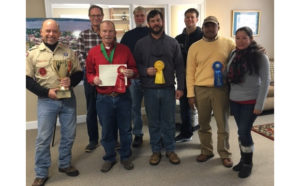 New Text to Vote App launched to select crowd favorite
The New Bern Grand Marina Yacht Club and Nicole Dewar, New Bern Parks and Recreation, presented the 2016 Flotilla winners with gifts and awards last week for their participation in this year's Flotilla.
As one of the event sponsors, the New Bern Grand Marina Yacht Club teamed up with the City to provide this year's Flotilla winners with a slew of goodies this year in the interest of recognizing their effort and dedication to support this 32 year old holiday tradition in New Bern.  In the weeks preceding this community event, boats from all over feverishly prepare and decorate their boats with thousands of Christmas lights, moving and animated holiday characters, along with some creative visual effects that give the illusion of snow on the water.
"This year's Flotilla had to be one of the best in recent years.  Fifteen boats participated to parade their "holiday spectaculars" up and down the Neuse and Trent rivers for all to enjoy.  In year's past we've seen more participation, but this year, we noticed a concentrated effort by participants to provide a flotilla that offered something truly unique and entertaining, with stationary figures or decorations that towered well over 15-20 feet high, along with a one-of-kind water shower that sprayed water off and around the entrant's boat, creating the illusion of snow.  It was wonderful!  We hope to double participation next year and continue to build this event into something bigger and more spectacular each year" states Nicole Dewar, New Bern Parks and Recreation.
The New Bern Grand Marina Yacht Club offered all first place winners a gift certificate for a free night stay at the marina.  The highly sought after trophy returned and was presented to Jim Ward and the local Boy Scouts of America organization, who won Best Overall Powerboat.  Owen and Carolyn Smith won Best Overall Sail Boat, and new for this year, the City offered a "Crowd Favorite" award where attendees could text their vote to AT&T and the City.  This year's Crowd Favorite winner was Mike Thorsby.
"The New Bern Grand Marina Yacht Club has been a proud sponsor of this event for two years now and we couldn't think of a better way to help the community celebrate the season in "New Bern Grand Style" than by partnering with the City to help promote such a delightful event.  For the second year in a row, the marina has offered free day dockage until 10:00pm to all captains participating in the event off the marina's 700 foot long G dock.  We want everyone to enjoy this wonderful event and kick off the holiday season at the marina enjoying time with family and friends!" states Millissa True, on-site consultant and representative for the New Bern Grand Marina Yacht Club.
A number of other entrants also won secondary and third place awards.  They are:
Don Simpson – 1st runner up 25" and under – Powerboat
Mike Thorsby – 2nd runner up 25" and under – Powerboat
Dustin Tyson – 1st runner up 26"+ = Powerboat
Mark Hornby – 2nd runner up 26"+ – Powerboat
Jeremy Mills – 3rd runner up 26"+ Powerboat
Mr. & Mrs. Milton Costen – 1st runner up 26"+ Sailboat
If you'd like to participate in next year's Flotilla, please contact Nicole Dewar at 252-639-2902.
Submitted by: Millissa True, SBS Forward LLC