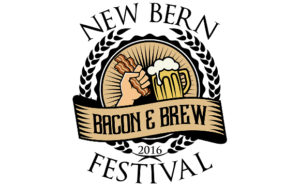 Kickoff Mumfest with a squeal! United Way of Coastal Carolina presents the 2nd Annual Bacon and Brew Festival on Friday, November 11th in New Bern, NC. We will have live music from Villa*Nova, great beer and wine selection, four food trucks with bacon themed menus, and so much more!
Entry will be $10 in advance, $15 the night of the event! Gates open at 5pm at the New Bern Farmer's Market. Proceeds benefit the United Way of Coastal Carolina and our partner agencies. Additional information can be found at NCBaconandBrew.com.
Some featured menu items to feast on this year include; pork tacos with bacon jam, chopped fried chicken with pimento cheese & bacon, and Guinness chocolate cupcakes with candied bacon! Wash it all down with your choice of 6 craft beers or a glass of wine from the Galley Store.
More Bacon, More Beer! Don't miss downtown New Bern's event of the year!
The United Way of Coastal Carolina had its beginnings in the Coastal Carolina area in 1957. What started as just a fundraising organization many years ago, has developed into an organization focused on measurable, long-lasting results focused on the local community's most compelling needs. United Way fights for the Health, Education, and the Financial Stability of every person in every community. Currently there are 18 funded programs serving individuals in Carteret, Craven, Jones and Pamlico Counties. Funds are raised locally to fund local programs. For more information visit UnitedWayCoastalNC.org.
Submitted by: Tate Johnson, Resource Development and Marketing Coordinator, United Way of Coastal Carolina