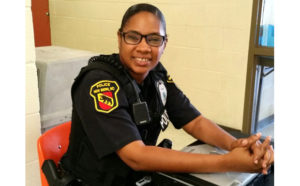 There's still time to vote early today and tomorrow! During early voting, you can cast your ballot at any location in Craven County, NC.
If you have difficulty filling out the ballot due to a disability, please let them know before they give you a written ballot as they have an alternative – electronic way to vote.
Please visit the Craven County Board of Elections website for the 2016 Voting Guide, polling locations, and any other information or call 252-636-6610.
We voted at the West New Bern Recreation Center and enjoyed talking with Police Officer Sharice Garrard. Special thanks to the New Bern Police Department for all that you do to keep our community safe.
Have a great weekend!
Tell us what you think sending us an email. Visit New Bern Now's Facebook page or sign up for the latest updates by submitting your email address in the right margin on New Bern Now's website.
Wendy Card