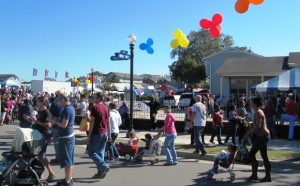 11th: Field of Flags at New Bern Union Point, honoring the service and sacrifice of Veterans, sponsored by Vietnam Veterans of America, Chapter 886, New Bern. Call 252-636-5543
11th: Veterans Day, 9:00am – 5:00pm at the Tryon Palace. Call 252-639-3500.
11th: Collegiate Veterans Association (CVA) 5k Run/Walk, 8:00am at Ft Macon State Park. Call 252-349-1430.
11th: ArtWalk throughout Downtown New Bern, 5:00pm – 8:00pm, presented by the Craven Arts Council at the Bank of the Arts. 252-638-2577.
11th: ARTcrawl presented by the Community Artist Will, 5:00pm – 8:00pm at the Center for the Arts, Isaac Taylor House and Gardens, and numerous locations in Downtown New Bern.
11th: 2nd Annual Bacon and Brew Fest, 5:00pm – 10:00pm at the New Bern Farmers Market. Proceeds benefit the United Way of Coastal Carolina. Call 252-637-2460.
11th: Down East Folk Arts Society presents Beaucoup Blue, 7:30pm at the Trent River Coffee Company. Call 252-633-6444.
12th: Military Appreciation Day in honor of Veterans Day at the New Bern Farmers Market. Call 252-633-0043.
12th: Ribbon Cutting for City of New Bern Welcome Center "Cub House", 10:00am at 223 Pollock St. Call 252-636-4000.
12th: Tryon Palace Gardens Lecture Series, 10:00am at the North Carolina History Center. Call 252-639-3500.
12th: Stew, Brew, and Chili Too, 6:00pm – 9:00pm at St Paul Family Life Center. Call 252-633-0100.
12th – 13th: MumFest 2016 throughout the streets of Downtown New Bern. Presented by Swiss Bear Downtown Development Corporation. Call 252-638-5781.
Listen to our latest Podcast episode for details about this weekend's events:
There also all kinds of fun activities to include something to do for all ages!
What are you doing this weekend?
Tell us what you think sending us an email. Visit New Bern Now's Facebook page or sign up for the latest updates by submitting your email address in the right margin on New Bern Now's website.
Wendy Card