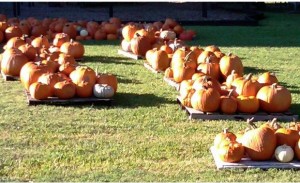 1st – 31st: Tryon Civitans' Peanut Butter Drive benefiting Religious Community Services, drop off at The UPS Store, 1822 South Glenburnie Rd. Mon – Fri: 8:00am – 6:00pm; Sat: 8:00am – 4:00pm. Call 252-637-7500.
27th – 28th: Cabaret Noir, 7:00pm at The City Laundry. Call 252-876-7007.
27th – 29th: 26th Annual Ghostwalk 2016 – "Whispers…From the Past" presented by the New Bern Historical Society. Call 252-638-8558.
28th: Annual Parade of Preschoolers down Middle St. at 9:30am. Rain location: West New Bern Recreation Center. Call 252-639-2902.
28th: Master Acoustic – Looping Artist Jeff Miller returning to New Bern, 7:00pm at the Trent River Coffee Company. Call 252-514-2030.
28th – 29th: John Lawson Legacy Days On Historica Contentnea Creek, Fri: 6:00pm – 9:00pm; Sat: 10:00am – 5:00pm at 437-A Creekshore Dr., Grifton, NC. Call 252-349-0405.
28th – 30th: 2016 Home and Holiday Gift Show at the New Bern Riverfront Convention Center.
29th: Halloween Celebration at the New Bern Farmers Market. Children accompanied by adults are invited to dress up and Trick or Treat with vendors. Call 252-633-0043.
29th: Free Application for Federal Student Aid (FAFSA) Day, 9:00am – 12:00pm at Carteret Community College, Craven Community College, Pamlico Community College and Pitt Community College. Call 866-866-2362.
29th: All Hallow's Eve, 10:00am – 2:00pm at the Tryon Palace. Call 252-639-3500.
30th: Identifying Old Photos Program, NC State Archives' Staff Ms. Kim Anderson and Mr. Ian F. G. Dunn, 3:00pm. Co-Sponsored by the Craven County Genealogical Society and The Kellenberger History Room at the New Bern-Craven County Public Library Auditorium. Call 252-349-0405.
Listen to our latest Podcast episode for details about this weekend's events:

There also all kinds of fun activities to include something to do for all ages!
What are you doing this weekend?
Tell us what you think sending us an email. Visit New Bern Now's Facebook page or sign up for the latest updates by submitting your email address in the right margin on New Bern Now's website.
Wendy Card