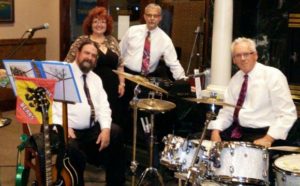 The Bears, New Bern's favorite oldies band, return to Taberna Country Club Saturday evening, October 22.
Remember the songs you danced to in high school and college?  The Bears will take you back in time with Doo Wop harmonies, British Invasion beats, and Golden Age Rock & Roll that will have you dancing, tapping your feet, singing along, and shouting for more.  The Monster Mash will be a Graveyard Smash!
Who are The Bears?
– "Mama Bear": Janet Montero sings and plays bass.
– "Baby Bear": Steve Latimer sings and plays guitar.
– "Yogi Bear": Pat Engeman is the drummer, as well as a singer.
– "California Bear": Simon Spalding plays bass, fiddle, and guitar.
The buffet ("heavy hors d'oeuvres") starts at 6:00. The buffet costs $15.95 for adults, $7.95 for kids aged 4-to-10. The music starts at 6:30, with a $5 cover for non-members.
There will be drink specials at the bar. There is also a Costume Contest: feel free to come in your craziest Halloween outfit!
Taberna Country Club is located at 401 Taberna Drive, south of New Bern in the Taberna Community.  For reservations or information, call Taberna Country Club at 252-634-1600; or call Kelly (the manager) at 231-679-4601.
To learn more about The Bears, check out the band's website: TheBears.Band.  To book The Bears, contact Pat Engeman at 678-205-7309.
The Bears' "way back machine" takes you on a sentimental journey through the best songs of the last sixty years, served up with harmony, hot licks, and a great sense of fun.  In the immortal words of the Go-Go-Gophers, "Whoopee, doopie, We have fun!"
Submitted by: Simon Spalding