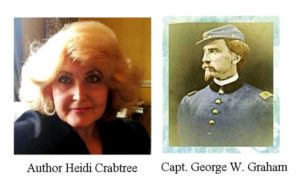 New Bern Historical Society Hosts Author Heidi Crabtree
People are not always what they seem to be.  This was the case as Capt. George W. Graham arrived in New Bern with the NY 3rd Cavalry following the battle of New Bern in March 1862. What a gallant, stalwart fellow he was! He even married a local girl! Guest speaker Heidi Crabtree with explain the truth as she presents "Not a Soldier But a Scoundrel, the Lives & Deaths of George W. Graham" at New Bern Historical Society's Lunch & Learn on Thursday, October 13, 2016 at 11:30 at the Chelsea.
Author, Heidi Crabtree is originally from Dayton, Ohio. Her interest in history led to her work in several museums.  It was in the Frontier Army Museum in Ft. Leavenworth, Kansas that she came across George W. Graham.  He was so interesting that she followed his trail through Colorado ghost towns, Utah, coastal North Carolina, and the National Archives in Washington DC. The result was her book "Not a Soldier But a Scoundrel, the Lives & Deaths of George W. Graham."
Lunch & Learn starts at 11:30 a.m. at the Chelsea Restaurant, 335 Middle Street, New Bern. Tickets are $16 for Historical Society members and $18 for non-members; lunch is included. Tickets must be purchased in advance by calling the New Bern Historical Society at 252-638-8558, or can be ordered at www.NewBernHistorical.org. Lunch choices are Pork Tenderloin with blueberry lemon ginger sauce, garlic mashed potatoes and vegetable medley. Baked Salmon with champagne dill sauce, rice pilaf, and vegetable medley.
The mission of the New Bern Historical Society is to celebrate and promote New Bern and its heritage through events and education.  Offices are located in the historic Attmore Oliver House at 511 Broad Street in New Bern.  For more information, call 252-638-8558 or go NewBernHistorical.org or Facebook.com/NewBernHistoricalSociety.
Submitted by: Kathy Morrison, New Bern Historical Society