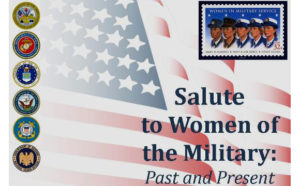 If you are now serving or have ever served in any branch of the military… don't miss the 2016   "Salute to Women of the Military: Past and Present" luncheon.  The event will be held at the Havelock Tourist and Event Center on Thursday, October 20, 2016 with sign-in beginning at 11:30 AM.  Cost for the luncheon and program is $20.  Tickets are required and may be purchased at Promise Place (252-636-3381) in New Bern or online at PromisePlaceNC.org.
The Salute luncheon and ceremony honors all women who are presently serving their country… or have served in any branch of the military in the past.  Today women make up 20% of our nation's military. Over 70,000 female veterans live in the state of North Carolina.
Speaker for this year's event will be Captain Angela Nimmo, USN, Commanding Officer – Naval Health Clinic Cherry Point on MCAS Cherry Point.
Check out the event and see wonderful photos of women veterans and active duty women in our nation's military at Facebook.com/salutemilitarywomen.
American women have been serving in the U.S. Military- acknowledged and unacknowledged. For service in the American Revolution, Margaret Corbin, dubbed "Captain Molly," became the first American woman to receive a military pension? At the defense of Ft. Washington, when her husband John Corbin was killed at the cannon, she assumed his post and was wounded. On July 6, 1779, the Continental Congress granted her money equal to one-half pay drawn by a soldier and one suit of clothes.
For more information contact: Bee Mayo at 252-637-2055On November 2nd 1987, the first Salute to Women of the Military was held in New Bern NC.  According to a source from the Women in Military Service for America Memorial it was the first in the country. The first guest speaker was Colonel Valeria F. Hilgart, USMC (Ret.).  She regaled the audience with stories of the "old days".  She saluted the retirees present for their pioneering spirit and challenged the active duty personnel in all branches of the military to hold onto their dreams. Over the years many talented speakers have inspired and praised the contributions of women in the military service of our country, both past and present.
Submitted by: Bee Mayo