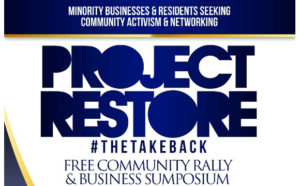 September 24, 2016
Stanley White Recreation Center in New Bern
There will be a Community Rally / Minority Business Symposium.
We will have door prizes, an artist creating live drawings, NAACP voter registration, military presence, and much more community/business participation.
It is open to minority businesses and organizations that are affecting change in their community.
Leaders will be speaking about their organizations and residents/community members will have the opportunity to walk around, ask questions, and engage in dialogue with these leaders.
For more information, call 252-497-8838.
Submitted by: Talina Massey, CEO, SugarFootEntertainment LLC