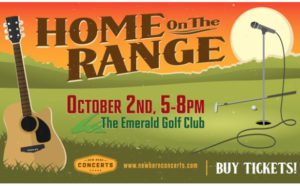 New Bern Concerts, LLC is pleased to present "Home on the Range," a benefit concert for RCS on Sunday, October 2 from 5pm – 8pm on the driving range at The Emerald Golf Club. Musical performances by country music legend John Michael Montgomery, Ira Dean (formerly of Trick Pony), up and coming J.D. Shelburne and New Bern's Bryan Mayer. Tickets start at $20 with a limited number of VIP tickets available. Gates open at 3pm. Food and beverages will be available as well as artist and event merchandise. ALL proceeds will benefit RCS to help in the expansion of their Homeless Shelter. Guests are encouraged to bring canned goods to help stock the shelves in the Food Pantry.
New Bern Concerts, LLC is owned and operated by Kim Briele and Shannon LuQuire, both of New Bern. The company was formed to manage musical events for local businesses and non-profit organizations. "Home on the Range" is the inaugural event with plans for future shows in the Spring and Summer of 2017. "We are lucky to live in a community that is so willing to help those in need. Unfortunately, the needs are so great and we have found that fundraising can be challenging for many non-profits. We started New Bern Concerts as a way to let the community at-large enjoy unique events and help local charities at the same time," said Shannon LuQuire.  "It's exciting that these artists have a heart for charities and are excited to come to our small town and perform. We want this event to be family and community friendly with the emphasis on our mission of helping others," said Kim Briele.
More information is available online at NewBernConcerts.com.
Submitted by: Shannon LuQuire