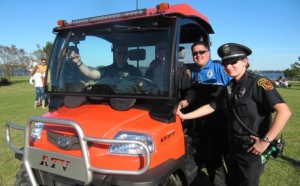 Saturday, August 27 at 11:00
We will be standing on the pedestrian bridge over Hwy 70 in James City showing support for those in Law Enforcement. People are encouraged to create banners and signs and bring American flags to the bridge.
We will also be coordinating a Law Enforcement lead ride from New Bern to Morehead City and back to New Bern passing under the pedestrian bridge. Starting location for the ride will be Chik-Fil-A at the New Bern Mall, meeting up at 9:30am, departing at 11:00am. The ride will finish at the Buffalo Wild Wings/Five Guys parking lot in Morehead City.
Motorcycles, Jeeps, Trucks and Cars are all welcome.
This is a free event, lunch is not provided.
Craven and Carteret Sheriff Offices will be escorting the ride.
Submitted by: Kevin Yates, 252-529-9119