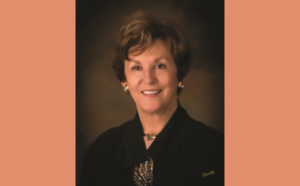 Craven Community College (CCC) announced it has hired Susan Moffat-Thomas as the program coordinator for its newly-reinstated Adult Enrichment Program. The program will kick-off in September with a roster of continuing education classes to include watercolor and acrylic painting, pottery, conversational French, how to build a boat, selling on eBay, sewing, history of jazz and blues and many other topics.
"Susan brings a strong background of leadership in the nonprofit arena that will be a great asset in the development and coordination of our new Adult Enrichment Program," said Gery Boucher, CCC vice president for students. Boucher added, "Susan's great work as the Executive Director of Swiss Bear Downtown Development Corporation yielded impressive results for our community, so we believe our adult education program is in good hands."
"I am very excited to be the program coordinator of this enrichment program and enjoy working with the large and diverse adult population to develop a program that offers highly engaging classes, lectures and workshops," said Susan Moffat-Thomas.
CCC is re-instating the adult enrichment program that was discontinued in 2011 due to reduced state funding. The re-instated program is different from the previous program in that it is designed to be self-supporting with non-credit, short-term classes that will be taught at the college's campuses and in community locations. The topics for these short-term, fee-based courses are being selected based on input from the community. Fees will vary based on duration and materials, but most will approximately cost $50 – $175 per class.
The public is encouraged to let Moffat-Thomas know what topics are of interest to them and if they are interested in participating as an instructor.
For more information on the program, contact Moffat-Thomas at 252-638-1367 (office) or 252-636-9477 (cell).
Founded in 1965, Craven Community College (CCC) is part of the North Carolina Community College System. With campuses in New Bern and Havelock-Cherry Point, Craven serves about 3,200 curriculum students and more than 10,000 continuing education students each year. The college offers a wide range of associate degree and certificate programs, as well as college transfer courses, career and occupational offerings, partnerships with four-year universities, specialized workforce training options, developmental studies and basic skills classes. Craven Early College High School programs are available on both campuses. CCC is also home to Public Radio East, one of the few community colleges nationally with this distinction. For more information about the college, visit CravenCC.edu.
Submitted by: Deborah Kania, Director of Marketing, Communications & Development Liaison, Craven Community College