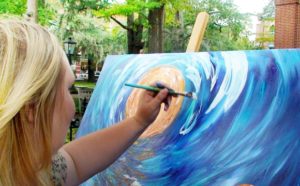 ARTcrawl is full of creative participants throughout New Bern. Mingle with potters. Gather tips during painting demonstrations. Get crafty with do-it-yourself projects. Be entertained with musical interludes as you stroll around the blocks.
On Broad Street:
Susan Cheatham shares, "We have so many new pieces of art at the CAW Studio and Gallery showing this summer!" During ARTcrawl, visit, Community Artist Will's Centre for the Arts at 415 Broad St. to see new jewelry pieces, fused glass coasters. The studios of Sandy Bruno, Nada Behr and Dee Mayer are chock full of new paintings. Mary Phelps has a whole back wall of new paintings at donation prices. Karen Rawson has new sunflower paintings and Shacklefort Ponies paintings. Susan Cheatham has new river and waterfall paintings. Eileen Wroe has a whole new show at the Bank of the Arts as well as her studio. Elaine Meyer will be in her studio displaying new artwork.
In Artisan Square, behind CAW Studio and Gallery, visit with Ben Watford, local author and potter. Watford will be demonstrating the craft of pottery on a wheel at the studio of Michaele Rose Watson.
Dan Phillips will be playing acoustical 70s rock n roll from 5-8pm at the Brown Pelican 411 Broad St. with a few friends joining him, including a new surprise or two.
New Bern Arts & Wellness Center, 919 Broad St., will host a performance by Barbershop Quartet. There is a chance to win door prizes. Observe painting and pottery demos including a glazing demonstration by Sara Elizabeth Arje in her new studio space at the centre.
On Middle Street:
Local musical ensemble, Gabby and Friends, will be performing soulful sounds at Surf, Wind and Fire, 230 Middle St.
Come get crafty and create your own ring/small dish at Lula Balou, 236 Middle St. Supplies are provided for $10. Dishes will be available to pick up Sunday between 12-5. Drinks and lite bites provided.
Dara Merrell Morgan and Érik Castillo will be at StarDust Gallery where you can check out CAR:t – An exhibit showcasing automobile related artwork by local artists. Dara Morgan will perform a painting demonstration.
Alisa Mike, vocalist with her Bose standard Jazz tunes, will be serenading strolling pedestrians at the Black Cat Shoppe, 246 Middle St.
David Olk will be featuring 4-5 pieces of his mixed media art at the Trent River Realty office, 333 Middle St. during this Friday's ArtCrawl.
On South Front Street:
Judy Szychowski will be at the The Next Chapter Books and Art, 320 S. Front St. with a group of her new paintings. There will be small acrylic paintings and larger plein air watercolor paintings. Enter a drawing to win a blue crab print and enjoy refreshments.
On Craven Street:
Arden Lindsey will be the artist at the new retail store, Nautical Wheelers, 202 A Craven St. during the August 12th ArtCrawl. Arden Lindsey and his father were the primary artists at Art of the Wild which operated on Middle Street between 1993 and 2011.  Arden Lindsey will be featuring a sailboat (and other pieces) which he is working on at this time.
Original artwork by Dick Hamilton is featured at Betsy Drake Interiors, 226 Craven St. showcasing home decor.
At the wrought iron gate to the Isaac Taylor Garden, 228 Craven St., Jerry Scott will setup contemporary artwork and Edward Hood, Jr. will be sketching Caricatures during ARTcrawl. Curtis Blake will showcase his aerial photography. Sydney Gilgo will be working on dreamcatchers and featuring her artwork depicting local scenes New Bern.
Lisa Bisbee Lentz and Carol Jones will be demonstrating oil painting techniques at Greater Good Gallery, 228 Craven Street with Jon Derby, our ARTcrawl photographer.  As usual, Derby will walk around downtown New Bern to photograph the ARTcrawl participants with his camera.
On Pollock Street:
Local artist, Lee Hood, will be continuing the process of painting the Gateway Mural Project on the Mexican Bakery at the intersection Queen St. and Pollock St. during ARTcrawl, Fri., Aug., 12 from 5-8pm. Find out more about the mural painting by Lee Hood in the Sun Journal newspaper published earlier this week.
For more info, visit CommunityArtistWill.org.
By: Lisa Bisbee-Lentz, Artist Representative, Greater Good Gallery