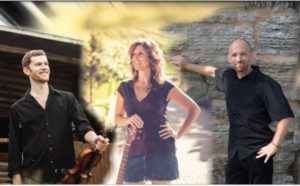 Residing in Brazil, the International singer songwriter, Jennifer Licko, specializing in Scots Gaelic and Country folk music is bringing her international band back to the Southeast!
Jennifer Licko will be performing with her award winning band at the Cullman Hall in the North Carolina History Center on July 5th, 2016 at 7:30pm in New Bern, NC.
"Jennifer Licko certainly has a voice made for the concert hall" …Boston Irish Reporter
After a huge success in December of sold-out concerts in the Carolinas, The Jennifer Licko Band is returning in July of 2016 for a week of 'Celtic Summer Nights'!
As an International touring artist who is featured on national radio in the US, Jennifer has proven herself as a respected musician within the Celtic genre while acquiring fans outside of that niche. Jennifer masterfully combines the Appalachian music of her North Carolina roots with the traditional Celtic music of her ancestors.
"Jennifer Licko could very well be the heir-apparent to Canada's Loreena McKennitt and Clannad's Maire Brennan," says Celtic Life Magazine.
On this tour audiences will enjoy Jennifer's lively band that includes two time All-Ireland fiddle champion, Andrew Finn Magill, who is another North Carolina native also living in Brazil. "Andrew Magill is a leading fiddler in a new generation of musicians. He plays with incredible versatility and is accomplished in a variety of styles. More important than his technical prowess is the fact that he approaches music with deep insight, sensitivity and respect."- Martin Hayes, Irish fiddle master
Those familiar with Jennifer's Christmas Concerts will be familiar with the Irish Guitar wiz Patsy O'Brien. His background credits in accompanying Celtic soloists include Eileen Ivers, Cherish the Ladies singer Cathie Ryan and piping legend Paddy Keenan.
"Ireland's best kept musical secret – Check him out!" – Paul Dromey, (Irish Examiner)
Jennifer's most recent album 'A Thousand Curses Upon Love' was recently voted by Celtic Music Radio as 'Celtic Album of the Year' and is receiving national radio airplay. The Irish Edition writes, "At times, Jennifer Licko has a haunting vibrato in her voice, at times she attacks songs with a deep feeling, but she always attracts as she sings."
Audiences can expect to hear that familiar Celtic Sound in the musical arrangements and melodic celtic style. Some songs are sung in English and others in Scots Gaelic. Like all good songs, the music that the Jennifer Licko band chooses to perform has a story that audiences will want to hear.
Ticket information is available at JenniferLicko.com or by calling 561-670-5534.
Submitted by: Sarah Jackson, USA Booking for 'SABAS'