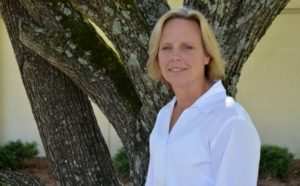 The Craven County Board of Education is honored to announce the selection of Dr. Meghan Sweeney Doyle as the next Superintendent of Craven County Schools. Dr. Doyle brings a diverse and impressive depth of experience which began in a high school classroom where she taught Biology, Physics and Physical Science. In addition to classroom experience, Dr. Doyle has served as an Assistant Principal and Principal at both the Middle and High School levels. In 2006, Dr. Doyle was appointed as the State Principal of the Year Advisor to the State Board of Education. In the same year, Dr. Doyle was selected as the Southeast Region Principal of the Year. Her experience at the next level includes serving as both Assistant Superintendent and Superintendent. In addition, Dr. Doyle was a successful District Transformation Coach for the NC Department of Public Instruction.
Most recently, Dr. Doyle served as the Assistant County Manager in Onslow County for Organizational Resources, Performance and Standards. We believe her experience at every level within the Public Education System, coupled with her unique experience in County Government, makes Dr. Doyle an exceptional choice for our community.
When asked about the personal strengths she would bring to our system Dr. Doyle replied, "You may think my strengths would be my unique experience. However, I believe my strength is my heart for children."
Dr. Doyle received her Bachelor of Science from the University of North Carolina Chapel Hill, her Masters in Administration and Supervision from East Carolina University and her Doctorate in Educational Leadership from East Carolina University.
The formal election of Dr. Doyle will take place at the June 14th meeting of the Craven County Board of Education which begins at 8:30am. A reception for Dr. Doyle and her family, will take place at 11:30am at the Central Office of Craven County Schools. Please join us!
Submitted by: Jennifer Wagner, Director of Public Relations, Craven County Schools