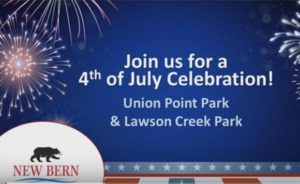 The City is hosting a patriotic celebration this Independence Day. Residents and visitors are invited to enjoy the downtown festivities, capped off by a spectacular fireworks display in the evening. There will be events in Union Point Park during the afternoon and evening, and fireworks will be launched from Lawson Creek Park that can be viewed from Union Point Park, the downtown waterfront area, and Lawson Creek Park.
The day begins at Union Point Park with the 5th Annual New Bern Run for the Warriors. This 5k race begins at 7:30 a.m. and is dedicated to the men and women wounded in Iraq and Afghanistan, their families, and the families of the fallen. Log on to www.RunForTheWarriors.org for more information.
The streets of Union Point Park are closed to vehicular traffic from 11 p.m. Sunday, July 3rd through 11 p.m. Monday, July 4th. The park opens at 4 p.m. Monday for visitors to come enjoy our misting tent, fossil dig, and food and beverage vendors. From 6-7:30 p.m., the MCAS Cherry Point 2nd Marine Aircraft Wing Band will entertain the crowd with patriotic tunes from the park gazebo. After their performance, a deejay will play music and host dance contests and games until the fireworks show begins around 9:15 p.m. The fireworks will be launched from Lawson Creek Park.
Lawson Creek Park is also open to visitors this holiday weekend as a picnic area and fireworks viewing location. Boat launch #2 (at the east end of the park) and Jack's Island are closed from 11 p.m. Sunday, July 3rd through 11 p.m. Monday, July 4th, and will be used to secure the fireworks launch site. Boat launch #1 (near the multi-purpose field) will be open until 6 p.m. Monday for boaters, kayakers, and paddleboarders who wish to get on the water. Note that the boat ramp will be closed from 6 p.m. until after the fireworks show.
Visitors are welcome to bring coolers, blankets and lawn chairs to both event locations and tailgate items to Lawson Creek Park. However, alcohol, glass, fireworks, pets, weapons, and concealed carry weapons are not permitted at either location. Service animals are permitted pursuant to city ordinance Section 6-5. Bicyclists are asked to refrain from riding their bikes inside the parks.
"The two locations give visitors more waterfront options for celebrating Independence Day with family and friends in two of our most popular parks," said City Manager Mark Stephens. "We are looking forward to great weather, huge crowds and a fun Independence Day celebration."
Traffic will be managed to get everyone in and out of downtown and Lawson Creek Park as expeditiously as possible. There will be no restrictions on traffic prior to the fireworks show. Handicap parking will be available at each location, and overflow parking for Lawson Creek Park is available at Temple Baptist Church.
Once the fireworks begin, traffic will be managed to ensure expeditious exit from the event locations. If you are leaving downtown, two lanes of traffic will exit over the Alfred Cunningham Bridge, so the bridge will be closed to incoming traffic from 9-10 p.m. Most traffic will be directed east on Broad and out the Cunningham Bridge. Other exit routes include Broad Street and First Street headed west.
To manage Lawson Creek Park traffic, the US Highway 70 West exit to Country Club Road, Pembroke, and Trent Woods will be closed from 9-10 p.m. All traffic will be directed out of the park and turning left towards the US Highway 70 entrance ramps and Country Club Road into Trent Woods and Pembroke. US-17 Business will remain open as an alternate entry point back into the northern parts of town.
"We will have lots of police officers on the roads this holiday weekend," said Toussaint E. Summers, Jr., Chief of Police. "Please heed the direction of law enforcement. There will be some delays and traffic backups, but we will dismiss traffic as quickly and efficiently as possible from both locations so that everyone can get home safely."
The City's rain date for the fireworks is July 5th. Should this rain event be needed, Lawson Creek Park will open from 7 p.m. and the fireworks will begin for a 9 p.m. show.
All of this information can also be found on our YouTube channel!
As a reminder, City offices will be closed on Monday, July 4th. Trash and recycling services will run as normal.
Submitted by: Colleen Roberts, Public Information Officer, City of New Bern