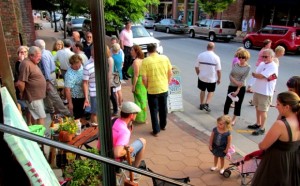 Community Artist Will is pleased to promote another ArtCrawl this Friday evening. Artists once again will be all over town demonstrating their talents and selling their crafts.
At the Greater Good Gallery on Craven Street, Lisa Bisbee Lentz will be in front of the Isaac Taylor House, be offering "Paint with Me" sessions where you can discover your own creativity. Sydney Gilgo, an art education major at ECU, will display her acrylics on canvas and dream catchers. Local digital artist Jon Derby will be at the gallery as well.
Around the corner on Pollock Street, painter Chris Wagner will be in his studio above Fine Arts at Baxters. In Artisan Square, adjacent to Andrea Owens' Red Shoe Gallery, Elisa Schulman of In The Wind Beading will have a table set up.
Next door, you can find Mattie Brown, Marilyn Bruggema and Peter Meyer will be setting up outside of CAW gallery with tables featuring their artistic talents.
Inside the CAW Center for the Arts, local artists Sandy Bruno, Elaine Meyer and Eileen Rowe will be in their studios with wine and cheese. We encourage you to also visit the Center For the Arts studios of Karen Rawson, Susan Cheatham, Becky Preece, Martha Schell, Nada Behr and Dee Mayer.
Wrap up your evening (or begin it) by stopping into The Brown Pelican and enjoying 70's acoustic soft rock with local musician Dan Phillips.
The Center For the Arts will also have a table to register for Summer classes, including pottery, painting, and drawing. For further information, please call Community Artist Will at 252-571-8566, or stop by the Center at 415 Broad Street in downtown New Bern.
Submitted by: Community Artist Will