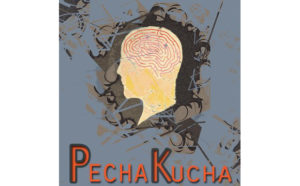 PechaKucha:Japanese for the sound of conversation or chit-chat, pronounced PE CHA KUCHA
PechaKucha 20×20 is a simple presentation format where you show 20 images, each for 20 seconds. The images automatically advance and you talk along to the images. (You have 6 minutes and 40 seconds to get your thoughts out there)
PechaKuchaNights are informal, laid-back, fun gatherings where creative people get together and share their ideas, works, thoughts, – just about anything – in the PechaKucha 20×20 format.
May 5th at the City Laundry Building, 901 Pollock St. Doors open at 6pm, presentations start at 7pm.
Our presenters are…Ashley McDaniel, Debbie Taggart, Pete Frey, Emily Stewart, Joyce Armstrong, Josh Maguire, and Brian Kmec.
It's free and open to everyone!
Submitted by: Elizabeth Spencer