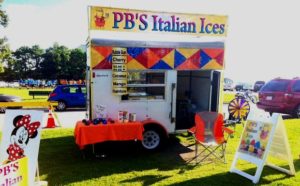 When Minnie McPhatter retired from teaching 4 years ago, she wanted to have a business that would allow her to work in the summer and vacation the rest of the year. She found it in PB'S Italian Ices. The PB stands for Polar Bear and if you haven't tried Italian ice yet, you have been missing out.
McPhatter discovered the frozen treat when her family would make summer trips to major cities and she fell in love with it. She claims, "It is the gourmet of frozen desserts that just about anybody can enjoy!" Italian ice is a treat that is low in fructose, with no corn syrup, or dairy in it and it's delicious.
The texture is smooth like ice-cream but with an intense fruit flavor. You can chill out with mango, cherry, lemon, blue raspberry, green apple, strawberry and on occasion you can also select coconut or banana from Minnie's cooler. Satisfying servings start at just $1.50 which also makes it a budget friendly indulgence.
PB'S Italian Ices started out as a very simple business. McPhatter would take her pushcart with tubs of Italian ice, a table and chair, and a tent to set up at festivals and in a James City parking lot. Her mascot PB (Polar Bear) proudly displayed at her side, decked out in a Hawaiian shirt, enjoying a refreshing Italian ice remained cool all day even while she was sweltering or struggling through a downpour.
In 2013 the East Carolina Hall of Famer decided to up her game and convert her trailer into a food trailer. Things were looking up but the weather in 2015 was rainy and miserable. McPhatter became discouraged and thought about throwing in the towel. However, she says thanks to divine intervention and her accountant she was encouraged to make a plan and think of PB'S as a serious business not a hobby.
Minnie McPhatter then learned about the Craven Community College Small Business Center Entrepreneur Academy. "I got my second wind by attending those classes. It gave me the direction I needed to commit to my business and make it grow," reports McPhatter. She also participated in the Panther Pitch, a Shark Tank like competition for the Entrepreneur Academy graduates to pitch their business ideas to some local "sharks" and win prizes to support their endeavor. Her pitch was deemed the best due to her plan, her enthusiasm, and by providing samples of PB'S Italian Ices to the judges and the crowd.
Since winning the Panther Pitch, she has also won three contracts with the New Bern Recreation Department. She is expanding her business with additional employees and a stationary site at the New Bern Aquatic Center. PB'S will be there Monday through Friday from noon to 7 p.m.
You'll find her trailer at Kite's parking lot in Vanceboro, Mondays and Thursdays from noon until 5:00 p.m., in James City at 801 Highway 70 East on Tuesdays and Wednesdays from noon-5 p.m., and on the 2nd and 4th Sunday of the month at Union Point Park in New Bern from 1-6 p.m. And if that won't suit your schedule, Minnie and PB will be happy to supply Italian ice for your next party, fund raising event, or wedding.
The official grand opening of PB'S Italian Ices is scheduled for Friday, May 20th at the James City location from noon until 5:30 p.m. There will be corn hole and tether golf competitions for the general public to try to win free scoops of PB'S.
The Chamber of Commerce will perform the official ribbon cutting at 4:30 p.m. and Chamber members will have a chance to win a PB'S Italian Ices party for a donation to the Food Bank of Central & Eastern North Carolina.
As a former educator, Minnie McPhatter knows that summer time is difficult for hungry families without the benefit of the school meal programs, "I've been fortunate to work with so many wonderful children and teens. I still want to be sure that they have the chance to succeed and feeding them is one way to ensure that success."
To catch up with PB'S Italian Ices go online, contact Minnie McPhatter at 252-634-9067 or like PB'S on Facebook.
Submitted by: Jane Maulucci, The Reactive Voice