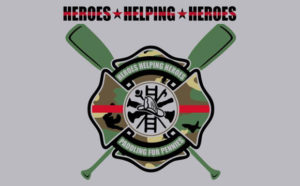 Paddling for Pennies – Heroes Helping Heroes". This year, 99% of the fundraising will go to, Kimmy Fix.  Kimmy was severely injured in an automobile accident in Italy after serving a tour of duty with the Army in Afghanistan in 2014 and is technically still in the Army. She has a 4 year old daughter.
On May 19th, eight Raleigh Area Firefighters will set off from Raleigh to kayak to New Bern.
It will take them four days and The Round House in New Bern on the Neuse is the finish line (405 Harbor Drive).
We'll have food and cold drinks and we welcome anyone to join us!
We accept donations up to May 22 and then present them with a jumbo check of all that was raised for Kimmy.
For more information, call 919-921-1348 or visit Paddling for Pennies' YouCaring website.
Submitted by: Bethany Richards