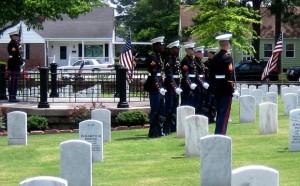 On Monday, May 30, more than 500 people are expected to attend the Memorial Day Ceremony at the New Bern National Cemetery, located at 1722 National Avenue, at 11:00am.
The Memorial Day Ceremony dates back to the days of the Civil War when it was known as "Decoration Day" because graves of veterans were decorated by civic and family groups to commemorate the sacrifices made by veterans.
The New Bern National Cemetery will be decorated with miniature American Flags placed on each grave by members of the Boy Scouts of America and Girl Scouts of New Bern, Enchanting Waters Service Unit on Saturday, May 28 and host a short ceremony at 9:00am to honor all veterans that wish to attend. Additionally, Veterans and other groups will place wreaths along the walkway at the entrance to the cemetery.
The guest speaker is Brigadier General Richard Casey, United States Air Force (Retired). U.S. Marines from Marine Corps Air Station Cherry Point will provide the color guard as well as a bugler from the 2nd Marine Aircraft Wing Band to play taps. The ceremonial firing detail will be provided by the Marine Corps League Cherry Point Detachment # 1067. Patriotic music prior to the ceremony and briefly after will be provided by the Havelock Community Band. The ceremony will conclude at noon.
Transportation will be provided via a shuttle service from the Temple Baptist Church parking lot at 1500 Kingdom Way in New Bern beginning at 9:30am. The shuttle will drop passengers off at the main entrance of the New Bern National Cemetery, and will return to Temple Baptist Church when the ceremony concludes.  The New Bern Chapter #40 of the Disabled American Veterans, and Temple Baptist Church are providing the complimentary shuttle service.
Chairs will be provided for seating, but attendees are encouraged to bring lawn chairs as well. Complimentary bottled water will be provided at the main gate as well as various points during the ceremony.
The Memorial Day Ceremony is organized and sponsored by the Craven County Veteran's Council which is comprised representatives from Craven County Veteran's organizations.
Submitted by: Dobert Owsley, Chairman, Craven County Veteran's Council