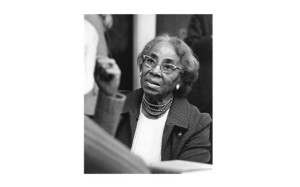 April 14 Lunch & Learn Brings Noted
Author Katherine Mellen Charron
Civil rights activist Septima Poinsette Clark (1898-1987) is best known for her role in developing the Citizenship Schools. She brought four decades of practical experience as a public school teacher and civic activist to bear as she designed the Citizenship Schools. During the 1950s and 1960s, thousands of disenfranchised African Americans passed through Citizenship School classes in which they learned to read and write in order to pass the literacy tests required by southern states to register to vote. Beyond preparing adults to gain access to the voting booth, Clark's curriculum taught students how to wield the power of the ballot to transform everyday life.
The New Bern Historical Society's April Lunch & Learn program, presented by Katherine Mellen Charron, will show that the roots of this program lay in the organizing tradition forged by black women educators in the segregated South and it will also highlight the degree to which the Citizenship Schools represented an important site of black women's activism and leadership in the Civil Rights Movement.
Native North Carolinian Katherine Mellen Charron received her B.A. in Literature at the University of North Carolina-Asheville; her M.A. in Afro-American Studies at the University of Wisconsin-Madison; and her Ph.D. in History at Yale University. Her teaching and research interests include 20th Century U.S. political and social, southern, women/gender, and African American history. Her publications include Freedom's Teacher: The Life of Septima Clark (UNC Press 2009) and Recollections of My Slavery Days, by William Henry Singleton, which she co-edited with David S. Cecelski. Currently, she is an Associate Professor of History at North Carolina State University.
Lunch & Learn starts at 11:30 a.m. at the Chelsea Restaurant, 335 Middle Street, New Bern. Tickets are $16 for Historical Society members and $18 for non-members; lunch is included. Tickets must be purchased in advance by calling the New Bern Historical Society at 252-638-8558, or can be ordered at NewBernHistorical.org. Lunch choices are Shrimp & Grits or Beef Marsala with mashed potatoes and seasonal vegetable.
This lecture is made possible by a grant from the North Carolina Humanities Council, a statewide nonprofit and affiliate of the National Endowment for the Humanities.
Submitted by: Kathy Morrison, New Bern Historical Society