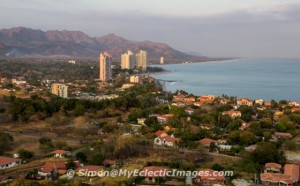 Two years ago, my husband and I fell in love. No, not with each other – we had already done that – with Panama itself. The country's contagious laid back lifestyle immediately won us over. Panama's natural beauty, culture, cuisine, and most of all, the Panamanian people, wooed us to return again and again.
Need some convincing? Here are just a few of the reasons why you should consider Panama for your next vacation.
– Panama is an easy trip. A short flight to Atlanta, then less than four-hours to Panama City will land you in the same time zone – if you travel before we move our clocks forward – ready for the time of your life.
– Panama is beautiful. Spectacular rainbows over lush valleys, brightly colored tropical birds, panoramic views from high elevations, brilliant flowers, including magnificent orchids, and miles of pristine beaches are only a few of the enchanting sights awaiting you at every turn. Then there is the man-made wonder known as the Panama Canal. Watching boats and ships of all sizes and nationalities navigate the locks from one ocean to another is an experience you will never forget.
– Panama has climates and locations to suit every taste. Whether you prefer the slow pace of a sultry tropical beach, the energizing coolness of the mountains or the bustle and heat of a cosmopolitan city, this Central American nation excels in all categories. From culture-rich Panama City to the soft sands of Coronado Beach, to small towns like Boquete and Volcan in the Chiriqui Highlands, you will find your perfect vacation spot.
– Panama is a friendly and happy country. People are eager to engage you in conversation and offer help. Small coffee shops and eateries are perfect locations for gleaning information about anything from where to find the cheapest beer to what you should be paying for a cab.
– Panamanians are perpetually smiling, and music pours out of speakers on busses, in bars and from open windows. Most of the rhythms have an upbeat traditional Latin flavor.
– Panamanian people and life move at a slower, more relaxed pace. "Panama time" is the precise opposite of the "New York minute". It may take some adjustment of attitude, but the results are well worth slowing down: less stress, more time to become aware of the positive things surrounding you and learning to live in the moment.
– Panamanian food is fresh and inexpensive. International cuisine can be found almost anywhere in Panama, but if you want to find a good meal at a reasonable price, dine with the locals. A generous plate of meat or fish, vegetables or salad and rice or potatoes can be had for about $3.50, and your lunch will keep you going for hours. Purchase a pineapple for $1.00, a large mango for $0.75, or two sweet, thick-walled red, green or yellow peppers for $0.90, all fresh, juicy and delicious. Eating healthfully is easy in Panama.
December through April are the best months to visit Panama. My husband and I have spent three consecutive seasons ranging from one month to two-and-a-half months, in Boquete. We have made friends, found ample opportunities for volunteering and have become involved in the community. We have benefited from the fresh air, copious amounts of delicious produce and slower pace of living. For us, Panama has become a life within a life, but even a week in this spectacular, friendly country will give you a new, more positive outlook. And, who knows, you too might fall in love.
By Contributing Author: Penny Zibula, Freelance Writer and Blogger, www.SixLegsWillTravel.com