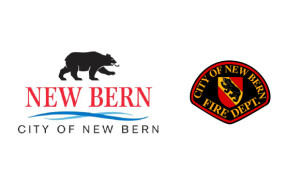 This Saturday, April 23rd, New Bern Fire-Rescue is hosting an open house at Headquarters Fire Station located at 1401 Neuse Blvd. The event is scheduled for 10 a.m. until 3 p.m. and the public is welcome to attend.
The event is an opportunity to get to know your local New Bern Fire-Rescue. Meet firefighters, ask questions, relay concerns, sign up for a free child safety seat check, and stay for the demonstrations featuring the fire department's newest recruit, K9 Darby, a friendly arson dog. The open house will include tours of the fire station and emergency readiness equipment, an inflatable fire safety house designed to teach children and families about household dangers, signups for free CPR classes, and other fire and life safety information and displays. Kids will also be invited to try using the fire hoses. Additionally, City residents will have the opportunity to sign up for a free home safety visit, in which fire-rescue staff will come to your home at a date and time most convenient for you, to identify household dangers and risks and help residents learn how to minimize or eliminate them. The home safety visits also assist families in developing fire escape plans.
New Bern Fire-Rescue's mission is to preserve the safety of our community through outreach and education. "Emergency preparedness and management should involve a community approach," said Fire-Rescue Chief Bobby Boyd. "When all of us are prepared, we increase our community's resiliency to fires, disasters, and other emergencies. This open house helps provide a framework for that collaboration."
Firefighters will use the open house as a way to remind residents to have working smoke alarms in their homes, to make sure everyone in the house knows how to dial 911 in an emergency, and to practice their fire escape plans at least once a year. "When we arrive at a house fire and see the family gathered at their meeting spot and everyone is out of the home safely, we know we've done our job," said Chief Boyd. "Fire escape plans help save the lives of you and your family, and our firefighters too."
Visitors are encouraged to park in the rear of the headquarters fire station so that emergency vehicles can deploy if there is a call for service during this special event.
"If you've never climbed on board a firetruck before, come out this weekend," said Fire Marshal Danny Hill. "We really enjoy getting to know the community and helping to empower families so they know what to do in an emergency."
New Bern Fire-Rescue plans to make the open house an annual event.
Submitted by: Colleen Roberts, Public Information Officer, City of New Bern