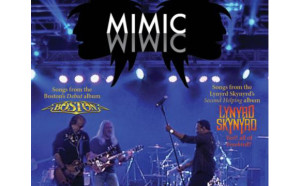 They will be performing such hits as:
More Than A Feeling, Longtime, Smokin', Hitch A Ride, Peace of Mind, Sweet Home Alabama, Call Me the Breeze, Curtis Loew, Needle and The Spoon and as a special treat, they will perform some of the Bad Company album: Can't Get Enough, Movin' On, Bad Company and Rock Steady!
Biography:
MIMIC replicates entire Classic Rock albums note-for-note and track-for-track as they occur on their respective album.
Over the years, Mimic members have sat in and played music with well known national acts. They have all been studio musicians in many capacities. All members of Mimic are seasoned at their craft and are known for their precision on their instruments. Mimic goes to great detail to please their audiences with replicating the albums they have come to hear. In many cases, they have consulted original band members (Boston/Lynyrd Skynyrd) to ensure the exact replication of their music.
Many times folks would love to see and hear those great albums performed again. Well, that is now available. Mimic is an experience that will leave people stunned, amazed and musically fulfilled. On April 8th & 9th, Mimic will be performing the following albums: Boston (the debut album) and Lynyrd Skynyrd's Second Helping…and yes, they will be performing note-for-note the famous Lynyrd Skynyrd hit FREEBIRD!!!!
Get your tickets soon and catch the only band in the United States that reproduces the Boston sound and the entire Boston Album!
Tickets can be purchased by calling the box office at 252-633-0567 or by ordering online by clicking here.
Tickets: VIP Seating $35 (includes one complimentary beer), Orchestra Seating $25, Balcony Seating $20, Plus tax.
For more information, call 252-634-9057, visit the New Bern Civic Theatre at 414 Pollock St. or check out their Facebook page.
Submitted by: New Bern Civic Theatre