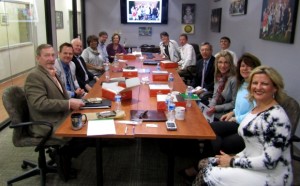 When you hear "CarolinaEast Foundation", you may assume it's related to the Hospital and Physicians.
We hope after reading this, you'll realize that the Foundation does their best to promote health, support the healthcare community, and helps people with their healthcare needs in our region.
Although I've published numerous "press releases" from the Foundation over the years, I truly didn't realize the positive impact they had on thousands of local patients and families.
That was until I joined local media outlets and the CarolinaEast Foundation to learn more about their efforts with Executive Director, Jill Thompson and Key Board Members.
The CarolinaEast Foundation is much bigger than supporting CarolinaEast Health System and their patients.
Jill told us about their Patients Assistance Program. They work with social workers, office managers, health departments, care coordinators, and anybody that may come into contact with a patient during their treatment that can't figure out how to pay for their services or care.
She also emphasized that the CarolinaEast Foundation is not a "Charity Care Program".
Jill said, "We help out with needs that are real in a healthcare journey that aren't covered by charity care or insurance".
They help patients who can't afford to travel for treatment by giving them gas cards, helping them with food, paying for accommodations, etc.
The Rehab Hospital may call them because they can't release someone from the hospital because they can't get into their house. In this situation, CarolinaEast Foundation will pay for the supplies and the New Bern Civitans will build wheelchair ramps. It's a terrific example of how the Foundation works with local non-profits and uses donor funds to go back to our community.
They helped a patient that walked from Vanceboro to get services at MERCI Clinic in New Bern. He walked 5 – 6 hours. After people found out about his struggles, he ended up getting care at the CarolinaEast Vanceboro office, but he still had to walk 45 minutes for care. The Office Manager in Vanceboro contacted the Foundation and asked if they could buy him a bike. They purchased a bike with a basket from Flythe's Bike Shop and now he can easily get around and buy groceries. Imagine how much this improved his quality of life.
These are only a couple of situations that CarolinaEast Foundation helped people in need. Stay tuned as we plan on helping the Foundation spread their message.
For more information, check out their website to learn more about CarolinaEast Foundation or visit them at 2007-B Neuse Blvd. or call 252-633-8247.
Tell us what you think by sending us an email. Visit New Bern Now's Facebook page or sign up for the latest updates by submitting your email address in the right margin on New Bern Now's website.
Wendy Card