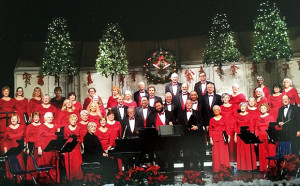 Listen to our interview with Marilyn Davis, Public Relations, Craven Community Chorus here:

Craven Community Chorus: Presents "Celebration of Life and Liberty" featuring John Rutter's "Requiem" and a selection of Patriotic-themed songs.
Phillip Evancho will conduct the "Requiem" with piano accompanist Cheryl Kite and Rachel Harmatuk Pino and the Trent River Players. Along with soloist, Kathy Smith.
In the second half of our concert, directors Jim Wilson and Fred Angoco will join Phillip Evancho in conducting the chorus in patriotic music that celebrates our nation's heritage, and our armed forces that defend us. Songs will span from the Revolutionary War to the present, these include "Battle Hymn of the Republic", "Two Passages" from Thomas Jefferson's "Testament of Freedom" arranged by Randall Thompson, "Homeward Bound", "God Bless the USA" and more.
Performances will be on Thursday May 5, at 7pm and Sunday May 8, at 3pm in Orringer Auditorium on the campus of Craven Community College located at 800 College Ct. New Bern NC 28562.
Two performances only will likely sell out, so get your tickets early. Tickets are $15, available for advance purchase from chorus members and at Bank of the Arts, Fullers Music, UPS Store, and Kitchen on the Trent. Great Mothers Day gift!
For more information, call 252-670-0230 or 252-665-0078.
Craven Community Chorus is announcing the establishment of a memorial fund that will honor past members of the chorus. So many people have sung with us over the years and even though they are no longer with us, they have not been forgotten. A plaque with their names will be present at our concerts as a reminder of their dedication, talent, hard work and patience. We are people from different backgrounds that have come together for the love of music. The Chorus is accepting donations in memory of past choristers or anyone who has loved our music. Donation acknowledgements will be included in our concert program as a thank you. Donations can be sent to Craven Community Chorus Memorial Fund, P.O. Box 13704 New Bern, NC 28561 or for more information call 252-670-0230.
Submitted by: Marilyn Davis, Public Relations, Craven Community Chorus