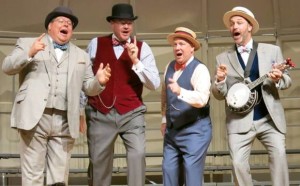 Remember those wonderful pre-internet days when we would gather after school or spend a Saturday night dropping dimes into our favorite malt shop's jukebox?  Well, leave the dimes at home and come join the Southern Gentlemen Barbershop Chorus at their annual show as they serenade you with many of those old jukebox favorites.
This nostalgic evening of toe-tapping, finger snapping melodies will take place in the Performing Arts Center of Grover C. Fields Middle School on Saturday, April 30th at 7:30 p.m.
The featured award winning guest quartet, "Boardwalk", is one of the most sought after quartets on the show circuit today. Since the beginning of 2014, they've entertained audiences in over 50 appearances across the United States. Their musical style and stage persona is a blend of folk music, barbershop harmony, and classic slapstick … a style reminiscent of the roots of vaudeville and barbershop music.
Showcasing the Chorus' encouragement of Youth in Harmony, quartets from local high schools will perform four-part harmony in their renditions of several popular tunes.
Tickets are $16.00 in advance and $18.00 at the door. Tickets are available at the Bank of the Arts, Fuller Music and from the Flagman at The Farmers Market. Credit card orders can be placed by calling 252-288-9132. Proceeds help support the charitable giving of The Southern Gentlemen.
It's a nostalgic night out that you won't want to miss.
Submitted by: Bill Rust, Southern Gentlemen Barbershop Chorus