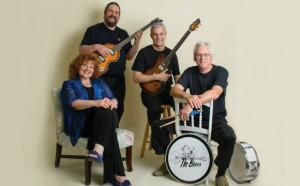 Grab your favorite Valentine and join The Bears, New Bern's all-star oldies band, for a Valentines' Day Eve Dinner Dance!
The Dinner Dance will be at River Bend Country Club on Saturday, February 13.  Romance will be in the air as The Bears' "way back machine" whirls you away to the 50's, 60's, and 70's.  Trip the light fantastic to your favorite dance tunes from years past!
Who are The Bears?
"Baby Bear" (Steve Latimer) sings and plays his amazingly versatile guitar.
"Mama Bear" (Janet Montero) sings and plays bass.
"Yogi Bear" (Pat Engeman) plays drums and sings.
"California Bear" (Simon Spalding) plays bass, guitar, and fiddle.
River Bend Country Club is at 94 Shoreline Drive in River Bend.  Banquet room doors open at 5:00 pm, with dinner starting at 6:00.  Band and Dancing will start around 7:00 and go till 9:00.  Tickets are $30 per person and include dinner buffet of turkey and ham with sides, dessert, coffee and iced tea.  There will be a cash bar available.
This is sure to be an evening to remember!  For reservations or information, call Pat at 678-205-7309 or Steve at 570-721-1434.
Tickets are available at:
River Bend Country Club, 94 Shoreline Drive, River Bend  (cash or check)
Fuller's Music House, 2310 Trent Road, New Bern (cash or check)
Frogley Chiropractic, 2113 S. Glenburnie Road, New Bern (cash or check)
Submitted by: Simon Spalding