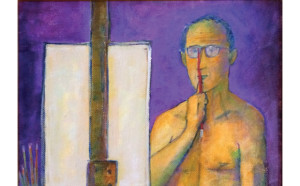 Greater Good Gallery presents the third annual Figurative Show highlighting the human form. The exhibit is open to ages 18 and older on Friday, February 12, 2016 during the Valentine ARTcrawl, 5 – 8pm, inside the Isaac Taylor House at 228 Craven Street in Downtown New Bern, NC.
Figurative artists have represented the human form for thousands of years. "Artists skills are enhanced by drawing the human anatomy," states Lisa Bisbee-Lentz, "These creative skills include bodily proportions, expression, and composition among others. Amedeo Modigliani's 1918 painting 'Reclining Nude' fetched $170.4 million at auction earlier this month. The Greater Good Gallery will be featuring artwork by some of the most talented individuals in New Bern, and we can hope for our own 'Modigliani' to be revealed."
See the creative artwork by Blaine Kruger, Alan Welch, Chris Wagner, Laura Gammons, Katie Wiggs, Georgia Johnson, Jon Derby, Carol Jones, Lisa Bisbee Lentz, Lee Hood, Bridget Swayne, Judy Szychowski,Beth Teresa,  Erik Castillo, Elaine Meyer, Becky Preece, Corinne Corr, Kristen Moffitt, John Hanley,Lynn Goodwin, Sami Taglieri, Beth Fairchild, Jerry Scott, Jane Ellen Horner, Samrae Duke, Ash Syphrett, Quincy Leigh Foley, GeeVee Meyer and Ben Watford. Meg Wethington will perform her poetry.
By Lisa Bisbee-Lentz, Artist Representative, Greater Good Gallery