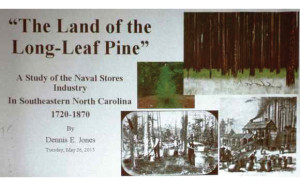 On Tuesday, February 9, 2016 at 6:30 p.m., the Craven County Genealogical Society will begin the evening with a cookie and punch reception where guests and members are welcome to discuss their research and learn more ways to find their ancestors.
At 7 p.m., the Society will host a free program featuring Dennis E. Jones of Richlands, Onslow County, North Carolina. His interesting program, "The Land of the Long-Leaf Pine, The Naval Stores Industry In Eastern North Carolina," will focus on the time frame of 1720-1870.
Mr. Jones will emphasize the tremendous impact the naval stores industry had on Eastern North Carolina for over 150 years and why some families moved to other states as the virgin timber was depleted.  For a time, the area was one of the largest exporters of naval stores in the world.  He will talk about the process of harvesting the four main naval stores products of tar, pitch, turpentine, and rosin. He will show some of the tools used and talk about the transportation of the products to markets around the globe from ENC ports.
Mr. Jones is an Onslow County native, who grew up in Richlands.  He graduated from Richlands High School; Atlantic Christian College; UNC, Chapel Hill; and ECU.  He served as a teacher, assistant principal, and principal in Onslow County until his retirement in 2001 and as an adjunct geography instructor for Campbell University at Camp Lejeune.
Mr. Jones has enjoyed researching family genealogies and Eastern North Carolina history for over 40 years. He has researched migration patterns to and from Southeastern North Carolina and has done extensive work in Onslow, Jones, Duplin, Lenoir, and Craven Counties.
He was a contributing writer to several area history books. He has been actively involved in the development and research of the forthcoming  "The Architectural History of Jones County, North Carolina" book.
The Society's monthly meetings are held at the New Bern LDS Church located at 1207 Forest Drive off Trent Road. The monthly meetings are free and open to the public and membership is encouraged. The Society has a vibrant and diverse membership representing not only Craven County and North Carolina, but also many other states as well.  The members are dedicated to fostering interest in the research, preservation, and sharing of family heritages. We welcome you to join us for this month's meeting.
For more information, please visit CravenGenealogy.org or contact President Nancy Perdue at 252-638-3291.
You are invited to visit the New Bern LDS History Center which is free and open to the public on Tuesdays (1 p.m. to 4 p.m. and 6 p.m. to 9 p.m.), Wednesdays (6 p.m. to 9 p.m.), and Thursdays (1 p.m. to 4 p.m.).  It is staffed by researchers who are happy to assist you in learning how to find your ancestors.  The Center provides free on-site access to some of the most popular online genealogy research databases as well as having books relating to local area family history.  More info is available here.
Submitted by: David French, The Family History Society of Eastern North Carolina